I
n My Mailbox is held weekly by

Kristi

at The Story Siren. Click here for details on how to participate.
---
Wow.
It has been way too long since my last IMM. I miss it. I miss getting new books! I miss the library! Well, here are four books that I were waiting for me when I got there...
---
Ballads of Suburbia
by Stephanie Kuehnert
Ballads are the kind of songs that Kara McNaughton likes best. Not the cliched ones where a diva hits her highest note or a rock band tones it down a couple of notches for the ladies, but the true ballads: the punk rocker or the country crooner telling the story of their life in three minutes, the chorus reminding their listeners of the numerous ways to screw things up.
In high school, Kara helped maintain the "Stories of Suburbia" notebook, which contained newspaper articles about bizarre and often tragic events from suburbs all over and personal vignettes that Kara dubbed "ballads" written by her friends in Oak Park, a suburb of Chicago. Those "ballads" were heartbreakingly honest tales of the moments when life changes and a kid is forced to grow up too soon. But Kara never wrote her own ballad. Before she could figure out what her song was about, she was leaving town after a series of disastrous events at the end of her junior year.
Four years later, Kara returns to face the music, and tells the tale of her first three years of high school with her friends' "ballads" interspersed throughout.
---

Currently reading the book above! The epilogue didn't quite catch my attention...but I'll have to wait and read the rest of the book to see.
---

The Summer I Turned Pretty
by Jenny Han
Some summers are just destined to be pretty
.
Belly measures her life in summers. Everything good, everything magical happens between the months of June and August. Winters are simply a time to count the weeks until the next summer, a place away from the beach house, away from Susannah, and most importantly, away from Jeremiah and Conrad. They are the boys that Belly has known since her very first summer -- they have been her brother figures, her crushes, and everything in between. But one summer, one wonderful and terrible summer, the more everything changes, the more it all ends up just the way it should have been all along.
---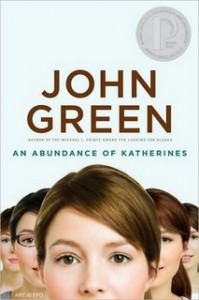 An Abundance of Katherines
by John Green
When it comes to relationships, Colin Singleton's type happens to be girls named Katherine. And when it comes to girls named Katherine, Colin is always getting dumped. Nineteen times, to be exact. He's also a washedup child prodigy with ten thousand dollars in his pocket, a passion for anagrams, and an overweight, Judge Judy-obsessed best friend. Colin's on a mission to prove The Theorem of Underlying Katherine Predictability, which will predict the future of all relationships, transform him from a fading prodigy into a true genius, and finally win him the girl.
Letting expectations go and allowing love in are at the heart of Colin's hilarious quest to find his missing piece and avenge dumpees everywhere.
---
Poison Study
by Maria V. Snyder

Choose: A quick death and hell or slow poison and hell.
About to be executed for murder, Yelena is offered an extraordinary reprieve. She'll eat the best meals, have rooms in the palace and risk assassination by anyone trying to kill the Commander of Ixia.
And so Yelena chooses to become a food taster. But the chief of security, leaving nothing to chance, deliberately feeds her Butterfly's Dust and only by appearing for her daily antidote will she delay an agonizing death from the poison.
As Yelena tries to escape her new dilemma, disasters keep mounting. Rebels plot to seize Ixia and Yelena develops magical powers she can't control. Her life is threatened again and choices must be made. But this time the outcomes aren't so clear.

---
And finally, I'm leaving the best for last. Yay, Poison Study! People have been bugging me to get it for a while now, and now I have it in my hands! But gee, I didn't realize there were tons of covers for Poison Study! This is the one that the library has. I had to find the picture on Goodreads.
---
Happy reading to all!